New Dakota dictionary app aims to preserve, revitalize language for young people
Jared Goyette | FOX 9 | February 26, 2023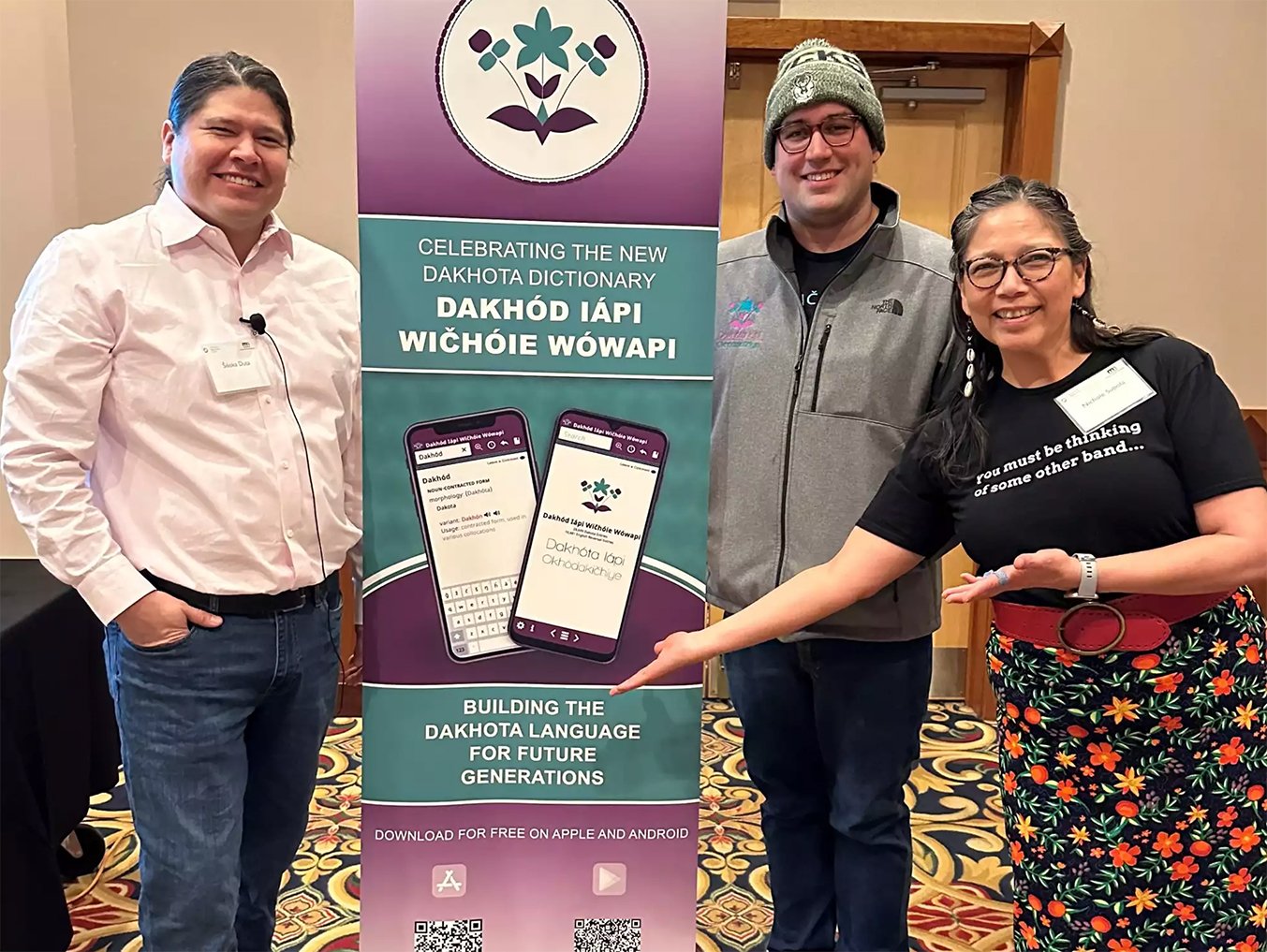 Joe Bendickson, left, is a senior teaching specialist at the University of Minnesota who goes by the Dakota name Šišókaduta. He recently led an effort to launch an app that is Dakota language dictionary aimed at helping young people learn the language. (Image provided)
ST. PAUL, Minn. (FOX 9) – A new Dakota language dictionary recently launched in Minnesota  represents a historic effort to preserve and revitalize the language by making it easier for young people to learn.
"We want to use all the tools possible to preserve the language. And one of the tools that we can use is modern technology, such as smartphones, tablets, laptops, and desktop computers, which a lot of our young people are using. And so why not use those tools to help them learn our language?" Joe Bendickson, a senior teaching specialist at the University of Minnesota, told FOX 9.
The dictionary, Dakhód Iápi Wičhóie Wówapi, is available to download at no cost on iOS and Android devices and launched on Friday, Feb. 10, during an event at the Grand Casino Mille Lacs in Onamia, Minnesota.
A symbol of hope
The effort to create the app began about six years ago, in 2017, when Bendickson, who goes by the Dakota name Šišókaduta, began to worry there were fewer and fewer Dakota speakers in Minnesota.
The situation grew even more urgent with the onset of the COVID-19 pandemic in 2020, which disproportionately impacted Native communities in Minnesota, leading to the loss of Dakota elders who were fluent in the language.
"At that time we were losing a lot of our Dakota speakers. A lot of them are past retirement age, and not a lot of younger people are learning… and so we said we need to do as much as we can to save these words and the way they're said," Šišókaduta said.
Šišókaduta wanted to develop online tools to reach young people, so he reached out to The Language Conservancy, a nonprofit that specializes in working with native communities to build language apps and dictionaries for endangered languages. Šišókaduta said it helped that the Conservancy had already helped develop an app for Lakota, a sister language to Dakota.
Will Meya, the director of the Conservancy, said his team understood the urgency behind the project.
"We're proud to be able to put this out in time so that hopefully young people can use this tool to learn their language and move forward in a positive and dignified way with their language. And fundamentally, the app itself is a symbol of hope for the language," he told FOX 9.
Recording the voices of elders
With help from a grant from the Minnesota Indian Affairs Council, Šišókaduta and his team began the first stage of the project: recording elders, both men and women, saying each of the dictionary's over 28,000 words.
"We had usually we'd have to travel to where they were, being they're elderly and we want to respect them and in their time," Šišókaduta explained.
Clifford Canku, an 84-year-old elder of the Sisseton Wahpeton Dakota Oyate tribe who retired as the chair of the Dakota Studies department at North Dakota State University, recorded many of the words.
"People like me were getting old. And what we created needs to be a new adaptation of delivering the Dakota language to the new generation of Dakota language speakers," he said.
A milestone for the language
Once Šišókaduta's team had recorded, and, when necessary, re-recorded the elders' voice tracks, they edited the sound files and transferred them to the developers working with the Conservancy, who in turn built the app.
For Meya, the app's launch was an "historic moment" for the language. Since all the content is downloadable, he hopes it becomes the foundation for future Dakota language projects, like other apps and teaching materials.
"It's been over 100 years since a dictionary of any substance has been produced in this language. And once a dictionary like this is out, it becomes the cornerstone of an entire opportunity to develop new materials to train teachers and learners." he said.
Šišókaduta is proud of his team's work, but he says ultimately, the future of the Dakota language is in the hands of the community's youth.
"And so I challenge all of our young people to learn your language and speak it, keep it alive. And hopefully, tools like this just help in that endeavor," he said.