Yavapai-Apache get federal grant to revitalize languages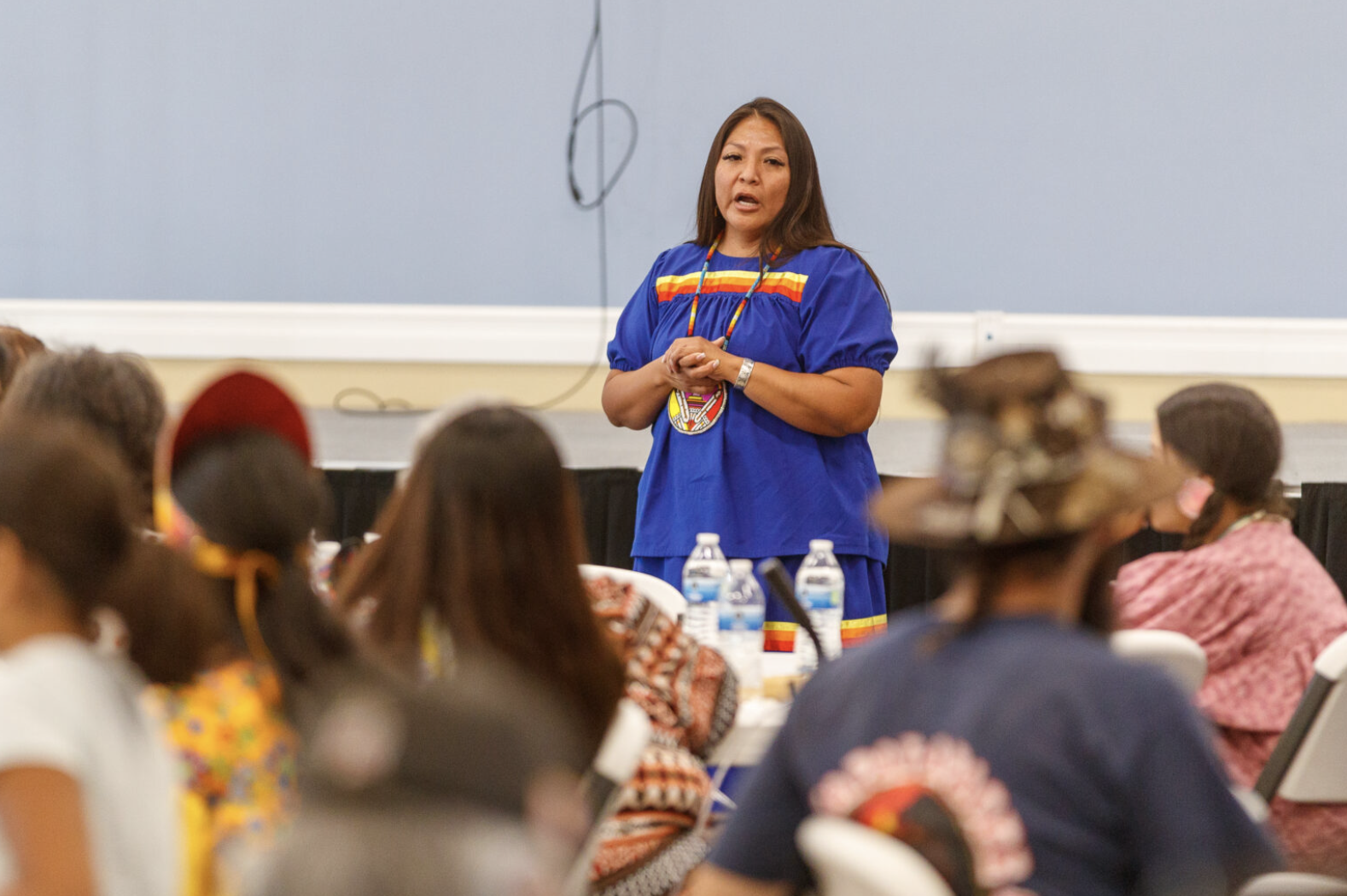 Yavapai-Apache Nation Tribal Council Chairwoman Tanya Lewis speaks at a launch event for the Nation's online dictionaries in Yavapai and Apache on Friday, June 30, at the Tunlii Community Center in Camp Verde.
The Yavapai-Apache Nation is collaborating with the nonprofit The Language Conservancy to create digital dictionaries of both the Yavapai and Apache languages as well as children's books. The first-of-its-kind initiative in Arizona was funded by a $250,000 grant from the Department of Health and Human Services and was unveiled  to about 150 attendees at the Tunlii Community Center on Friday, June 30, with a song and dance celebration.
"There's so little access now to speakers," TLC President Wil Meya said. "This is the last generation of first-language speakers of both Dilzhe'e Apache and Yavapai because they have an average speaker age of over 75. We need to find a way to leverage technology to create that multiplier that allows young people to learn anytime, anywhere."
More than 7,000 languages are currently spoken around the world, but 41% of those are endangered. TLC estimates that 90% of all languages will disappear within the next century if current trends continue.
"Young people need resources and accessibility to the language and to have it on an app is powerful," Meya said. "They can look up any word at any time. We've done this for other communities and young people have said, it's like having grandma in their pocket, because they can look up any word and they don't have to wait until they see grandma  to ask about a word. And sometimes it is their grandma or grandpa that is the voice on [the app]."
For TLC linguist William DeReuse, who compiled the original Dilzhe'e Apache dictionary in 1996, the development process has been a long and challenging journey, in part because both languages rely heavily on descriptions rather than single words, challenging spellings of words and a great amount of local diversity in pronunciation.
"Some of the modern words like television we had to decide which words we want to use, but because different people have different ideas about how to phrase this, you basically have to construct a word," DeReuse explained. For example, the Dilzhe'e Apache expression for compact disc is "kǫ'i bee náhidláhi," which essentially translates to "something's picked up with electricity." In this case, data is being picked up by electricity.
"You have to interview elders and ask them to talk about the old times, and then you not only get the new words, but you also get the older words that are likely to disappear," DeRuse said.
Past linguistic work in the Yavapai-Apache Nation was also held up by lost passwords that kept researchers from accessing valuable recordings . Yavapai-Apache Nation Chairwoman Tanya Lewis said the biggest  technical challenge for the project was keeping pace with technological advancement over the last 30 years.
"We could record something," Lewis said. "But when we look back 20 years or even five years, the formats have changed between VHS, DVDs, and now everything's online. You can have something that's good today; tomorrow, it's obsolete between computer and software upgrades. But I really appreciate those who can help finish this. I was there a couple of times at the cultural building and to see them come out of the recording booth, you can tell they were tired. It can be very intense."
Meya explained that he sees the dictionaries as the starting point for any number of future media products, including apps, distance learning courses, and textbooks.
"Language is the key to identity and the key to [a] healthy culture. We are privileged to be a part of this effort for the Yavapai-Apache Nation and look forward to these resources being used for generations," Meya said.
The dictionaries are available through the app store as the Wipukpa-Tolkapaya Yavapai Mobile Dictionary and the Dilzhe'e Apache Mobile Dictionary by The Language Conservancy.