Yavapai-Apache Nation launches preservation efforts for fading languages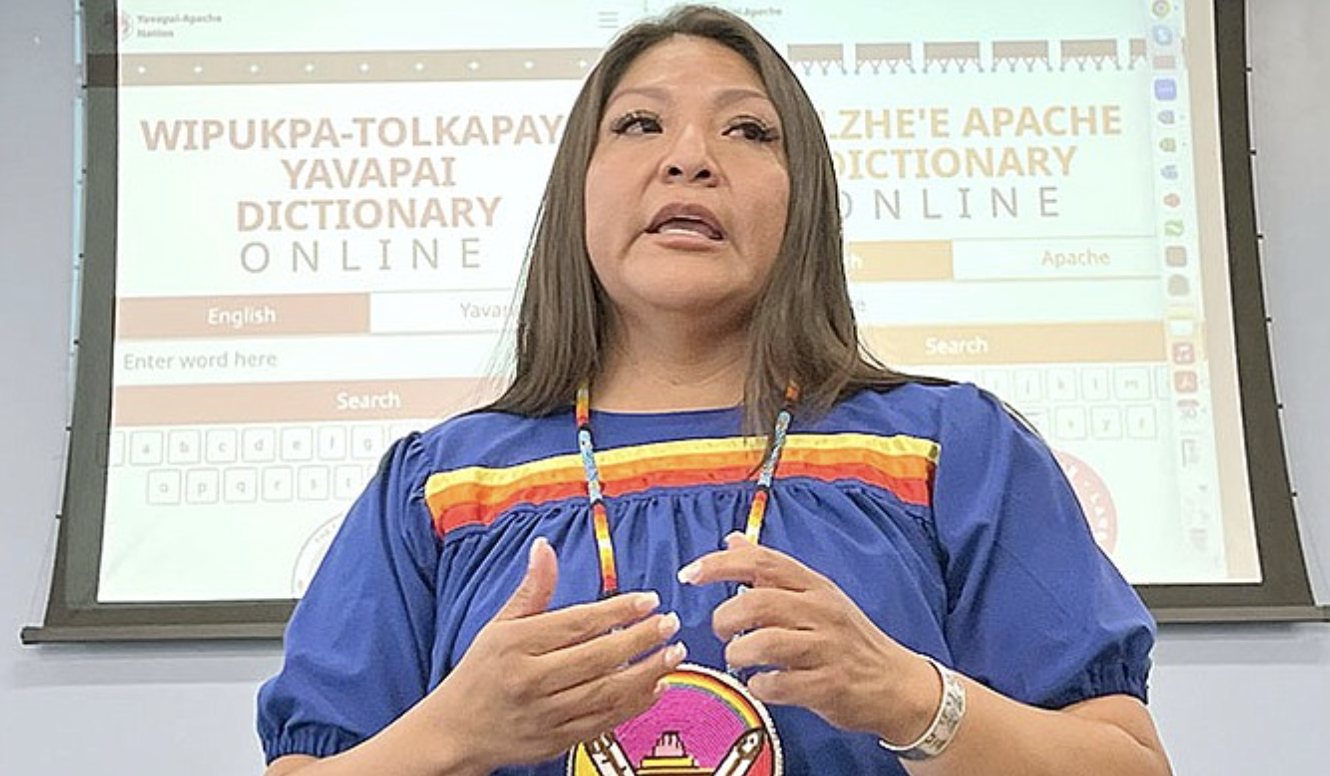 Yavapai-Apache Nation Chairwoman Tanya Lewis speaks at a community event launching online native-language dictionaries June 30, 2023.
CAMP VERDE — The Yavapai-Apache Nation, in partnership with The Language Conservancy, hosted a community event Friday morning to announce the launch of online and mobile dictionaries and picture books of the Dilzhe'e language spoken by the Apache, and Wipukpa-Tolkapaya spoken by the Yavapai.
TLC, the technical support organization for the Yavapai-Apache Nation, is assisting in the development of the two dictionaries.
"We are very proud to be partnering with the Yavapai-Apache Nation to put out these important materials. What The Language Conservancy does is act as a bridge to connect the two," TLC President Wil Meya told The Verde Independent. "We've created a bridge between the elders who want to teach their language and the young people that want to learn it."
Meya is extremely thrilled to be attending this event and looks forward to sharing these services with the public.
"It's a historic event for the Nation. For the last 20 years, a dictionary has been tried to be released," says Meya. "The Nation felt it was important to make sure that young people had access to the dictionary not just in print format, but with audio so they can learn to speak and understand those words."
The two languages are separate and unrelated to one another. However, Meya said, there are Tribal members that speak both.
"It's very important we do this work now while there are still speakers of these languages," Meya said. "We were lucky enough to work with some of the last first-language speakers from the community in terms of putting the dictionary together."
Meya says in addition to both languages being available online, they are also available through a mobile application on smart devices.
"For both languages, this is a huge leap forward because it allows the languages to be heard by pressing a button," he said. "This is a permanent record of their language that they can use to build all sorts of other materials. A dictionary like this becomes the cornerstone."
The event was held at Tunlii Community Center and was filled with demonstrations, reading and speaking of the languages, local dance group performances, a blessing song from a native performer, and interviews with Yavapai-Apache Nation Chairwoman Tanya Lewis and TLC President Wil Meya.
The Yavapai dictionary is available online at YavapaiLanguage.org. The mobile application is available at Apps.Apple.com/us/app/id6450429146 for iOS users and Play.Google.com/store/apps/details?id=org.westernapache.dilzheedictionary for Android users.
The Apache dictionary is available at Western-Apache.org. The mobile application is available at Apps.Apple.com/us/app/id6450429276 for iOS users and Play.Google.com/store/apps/details?id=org.yavapailanguage.dictionary for Android users.